Special Investigating Unit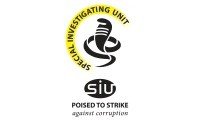 ​The SIU is a public entity with powers of investigation and litigation. Following the issuing of a presidential proclamation by the President, the SIU has powers to subpoena, search, seize and interrogate witnesses under oath. The SIU can take civil action to correct any wrongdoing it uncovers in its investigations. For example, the SIU can obtain a court order to compel a person to pay back the wrongful benefit received and thus recover the money for the state. The SIU also works with the department concerned to cancel contracts when proper procedures were not followed.


The SIU was established by the President in terms of the Special Investigating Units and Special Tribunal Act, Act No 74 of 1996 (SIU Act). Its primary mandate is to recover and prevent financial losses to the state caused by acts of corruption, fraud and maladministration. The SIU also assists departments with systemic improvements that improve service delivery.
Where criminal conduct is uncovered, it will bring the matter to the attention of its partners Hawks in the South African Police Service (SAPS), as well as the National Prosecuting Authority (NPA). It works closely with them to ensure that there is an effective investigation and prosecution. The SIU also works closely with the Asset Forfeiture Unit (AFU) in the NPA, where its powers are more appropriate or effective in recovering the proceeds of crime.
The SIU's Strategic Objective is
"to increase the impact of the SIU forensic service in the public sector by completing investigations successfully". This informs the SIU's
participation in the establishment and significant contribution in the multi-agency interventions:
· Anti-corruption Task Team (ACTT): The task team was created to
deal with high-level corruption.
· Multi-Agency Working Group (MAWG): The group is mandated to
detecting weaknesses and gaps in the system and investigating
irregularities.
· The Special Anti-Corruption Unit to investigate and
prosecute disciplinary cases.
For further information visit
www.siu.org.za